Background
For general information about Post Me_New ID project please visit
the [ About Post Me_New ID ] page.
Project Outputs
The Forum for Post Me_New ID was designed to debate and explore the outcomes from the project.
Invited international speakers and moderators presented on the themes of Networked Creations, Multi-Identities and Future Visions during the 3 days event which took place from 31st October to 2nd November 2008 in Dresden as part of the international media art festival CYNETart_08.
More information about this event at:
Forum for Post Me_New ID
Blog, documentation and video interviews from the Forum for Post Me_New ID are available on TMA website
More pictures on KIBLA website
See the project's members and artists interview  by Marlon Barrios Solano on DanceTech website: Masaki Fujihata, Michael Takeo Magruder, Ghislaine Boddington, Gabriel Vanegas, Mika Satomi, Hellen Sky, Eddie Ladd.
---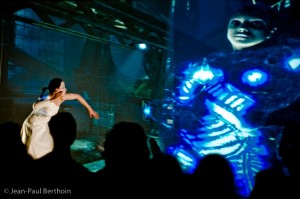 The premiere of the performance outcome "DARE WE DO IT REAL-TIME" from the project Post Me_New ID took place at Kinetica Art Fair on 27th and 28th February 2009 at P3 exhibition space, in Marylebone London.
More information about this event at:
"DARE WE DO IT REAL-TIME"
Also see: Kinetica Art Fair
Watch Dare We Do It Real-Time? video
Photograph from Kinetica 2009 – Copyright 2009 Jean-Paul Berthoin.
More photographs by Jean-Paul Berthoin from the live performance can viewed here
---
Post Me_New ID Book
The final output from EU Culture 2007-13 project-this Book will have essays and reflections from many of the artists involved in the 18 month project and resulting from the Forum at CYNETart_08 in Dresden looking particularly at Multi-Identities and Networked Creation Processes in today's world.
Watch this space for more info!