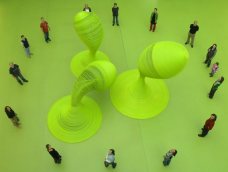 "MUSIC OF LIFE"  – MUSIC&SCIENCE PROJEKT DER KÜNSTLERGRUPPE PI-XL
2008 – www.pixelsex.org/musicoflife/
"Music of life" is a music&science project of the Pi-XL group. For the first time the models of cellular automata used in biomathematics are taken to generate an interactive music based on the human voice. This opens up new ways for a performative composition!
The "Music of life" functions similar to a laola wave in a stadium with moving sounds from singer to singer. There is neither a director nor a score, but the development is driven by simple local rules how to react on the neighbours. So for this space time related live composition it is relevant to react on and LISTEN to the neighbours in the choir group.