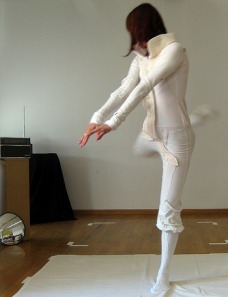 MIKA SATOMI & HANNAH PERNER-WILSON
2008 — www.kobakant.at
Concept and realization:
Mika Satomi, Hannah Perner-Wilson
Performer: Ivana Kalc
Thanks to:
Kunstuniversität Linz, Institute Interface Cultures, Ars Electronica Festival 2008
Perfect Human is a performance Inspired by Joergen Leth's 1967 short film "The Perfect Human" and Lars von Trier's "The Five Obstructions" (2003).
This performance intends to create a sixth obstruction, by introducing the rule of performance and the rule of non-linear narration.
The performance takes place in public space, using a motion-capture costume and portable radios. The technology worn by the performer plays the role of an interpreter, mapping statements to her bodily expressions.
These statements are translated into spoken words, broadcast and played back through surrounding radios.
The performer copies the movements of the person inside the marked space.
This allows the audience to explore the system through the mirroring of movement, moreover they have to themselves become involved in order to perform the role of the perfect human.